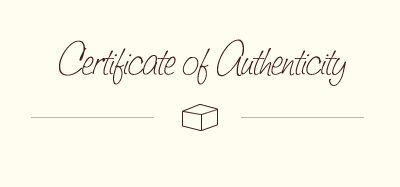 Certificates of Authenticity
With each of our luxury handmade designer wooden jewellery boxes we supply a certificate of authenticity to serve as confirmation of the materials used in manufacture. Although the value in terms of price is not stated, the description shows the true value and the intrinsic material value making the product what it is.
The certificate may be used for insurance purposes and we will always be happy to report to any company what the original purchase price was – obviously with your prior permission.
When the materials for our handmade designer jewellery boxes includes such raw material as rosewood and redwood, sheesham and grade one walnut – it's important for to you to be reassured that the material is genuine solid hardwood and exotic in terms of appeal and supply. We recognise this and want to make sure that you are advised in document form that the material is as stated.